<![if !vml]>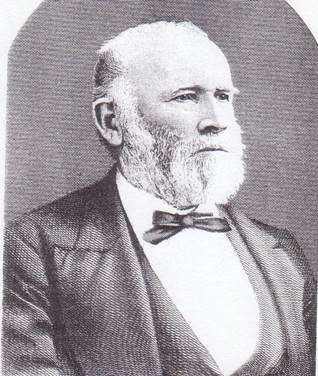 <![endif]>
Rector Elisha Cole
<![if !vml]>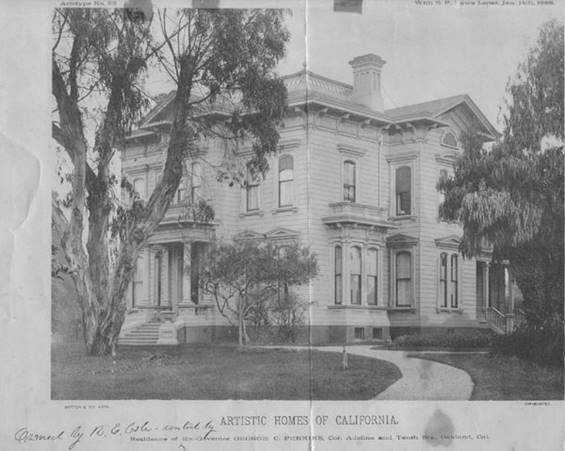 <![endif]>
Rector Cole's Home on 10 acres in West Oakland at 10th and Adeline
Rector Elisha Cole was born in Madison, Ohio November 20, 1819.  Madison was in rural Ohio and his family later moved to Oberlin to afford better educational opportunities.  While at Oberlin Rector Cole met Mary Philanda Finney, whose uncle, Charles Grandison Finney, became the second president of Oberlin College and was "America's foremost revivalist "during the 19th century.
Letter from Charles Gradison Finney dated 14 December 1871
The following is from the Finney family bible:
Mary Philanda Finney, b. in Mexico, N Y 29 Jan 1827, married 6 Oct 1847
at Newburyport, Mass. by her father to Rector Elisha Cole, a dentist, of Danton,
Mass, who was born in Madison, Ohio, 20 Nov. 1819, son of Justin and
Clarissa (Merriman) Cole. They lived in New Orleans La. for two years, in
Haverhill, Mass., two and a half years; in San Francisco, Cal., for seven years;
and settled , in July 1858 at Oakland, Cal., where they were living in 1874.
Members of California Lodge, No. 1 Free and Accepted Masons
"Traditional Oakland" from the June 18, 1916 edition of the Oakland Tribune
RECTOR ELISHA COLE
From a history book in the Oakland History Room at the Oakland Main Library
The more remote ancestry of R.E. Cole in this country commences with Samuel Cole who came to America with his wife in 1630.  Robert Cole, a person of the same family name, came also from England at the same time, in the same ship, was made a freeman in that year, removed subsequently to Providence, Rhode Island, and assisted in organizing the first church there, under the leadership of the celebrated Roger Williams.  A descendant of this Robert was John Cole, one of the early settlers of Narragansett, Rhode Island, who in 1668 was a magistrate when that country was under the jurisdiction of Connecticut: and also when in 1682 it came under the final control of the magistrates of Rhode Island, he was confirmed in his authority to administer justice to its inhabitants.  John Cole married a daughter of the distinguished Mrs. Anne Hutchinson, and died in 1706, leaving a son Elisha to succeed him, who became a lawyer.  This son Elisha left a large family, including several talented sons, among whom John became most distinguished.  He obtained a good education, for these early days, in the English branches, and Latin and Greek under a private tutor, studied hard, and commenced practice in Providence, where his talents and address soon acquired him an extensive practice.  He was elected associate judge of the supreme court of the colony in 1763, and the succeeding year was exalted to chief justice.  He sternly opposed the stamp act; and resigned his seat on the supreme bench, in 1755, to be elected member of the assembly from Providence, in order more effectually to carry out his opposition.  The next year he was elected speaker of the house, and in 1775, at the opening of hostilities with the mother country, Mr. Cole was appointed advocate-general of the admiralty court, which office he held through life.  He was an able and faithful advocate, and a tower of strength for the revolutionary cause.  His brother Edward was a well-educated and accomplished gentleman, predisposed to a military life, was colonel, under General Wolfe, at the taking of Quebec also, at the capture of Havana, Cuba, under Albermarle; and afterwards was appointed to form a treaty with the Western Indians.  He died in 1793.
            Dr. Rector Elisha Cole, of Oakland, California, was born in the town of Madison, Granger County, State of Ohio, on the twentieth day of November, 1819.  His father, Justin Cole, was born in Dalton, Berkshire County, Massachusetts February 4, 1787.  His mother's family name was Merriman, born in 1793; their marriage occurring August 8, 1811.  The succeeding year they moved to the wilderness of northern Ohio, and settled upon a farm, where were born to them nine children.  Dr. Cole enjoyed, at this early period, all the advantages the new State of Ohio afforded for education.  At the age of twenty, his father dying, the family removed to Oberlin, Ohio, where better facilities were afforded for obtaining an education.  Subsequently, the death of a beloved sister, and his own impaired health, induced him to seek a more genial climate, in New Orleans, Louisiana.  Having previously read several practical works on dentistry, he entered an office in that city, where he remained in the capacity both of pupil and assistant, during two years.  In 1849, having entered into an engagement to proceed to San Francisco, California, as assistant assayer, he embarked on the steamer Galveston, accompanied by a large number of passengers for the same destination.  The vessel was forty days in reaching Chagres; and two weeks more were consumed in crossing the isthmus, with the machinery for their contemplated works; arriving at Panama in April, 1849.  The ship Humboldt having been hastily fitted for the occasion, Dr. Cole and party, on the twentieth of May, re-embarked; and on arriving at Acapulco, Mexico, was left behind, to attend a sick companion who some few days subsequently died.  In August he secured passage on the English ship, Unicorn, and arrived in San Francisco, October 10, 1849.  The death of two of the company led to the abandonment of their original enterprise, and Dr. Cole determined to resume his profession.  He opened an office on Clay Street, opposite the plaza, where, during twenty-two years, he devoted himself entirely to the practice of dentistry.  In 1871, the impaired state of his health induced him to visit the eastern States.  After a brief absence he returned to his home, in Oakland, and again devoted himself to his life's occupation.  When the board of education, of the city of Oakland, was organized, Dr. Cole was elected one of its members.  During many years he has been one of its most efficient members, and is now its president.  His fellow-citizens, in grateful recognition of his services, have given to one of their public schools the name of the Cole School.  Dr. Cole is a member of California lodge of F. and A.M.  He assisted in its organization, in 1849, served three years as master, and was also a member of the State grand lodge.  He has likewise been, since the age of fifteen years old, a member of the Congregational church.  He was one of the organizers of the church in Oakland, and has been moderator of its board since its organization, and seven years superintendent of its Sunday school.  In politics he is a Republican, and was a member of the first Republican convention held in California.  In his profession, Dr. Cole has attained the highest position.  In 1860, the Ohio College of Dental Surgery, at Cincinnati, conferred on him the honorary degree of Doctor of Dental Surgery.  He married, in 1847, Mary P. Finney, daughter of Rev. George, of Newburyport, Massachusetts.  They have three sons to perpetuate his name.  Dr. Cole is a most affable and obliging gentleman, and in all respects a fine specimen of the enterprising American-Californian.
Rector Cole died October 15th, 1890.
<![if !vml]>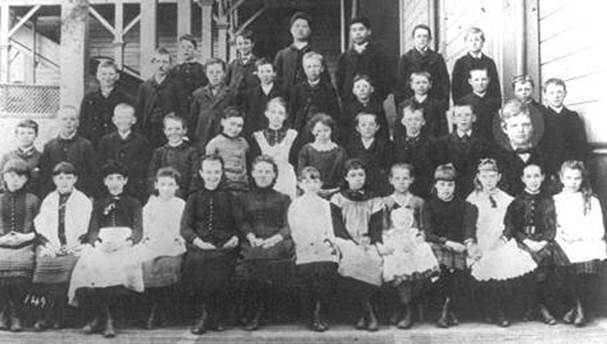 <![endif]>
Cole School, Oakland, 1887.
Jack London is second from right in second row from bottom, in bow tie.
As of 2013 Cole School is the headquarters of the Chief of Police
<![if !vml]>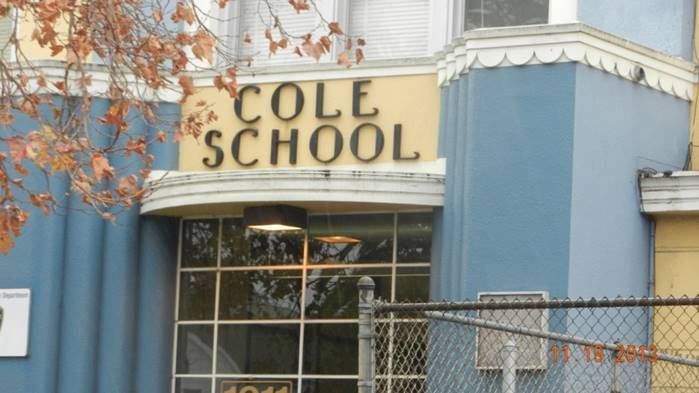 <![endif]>